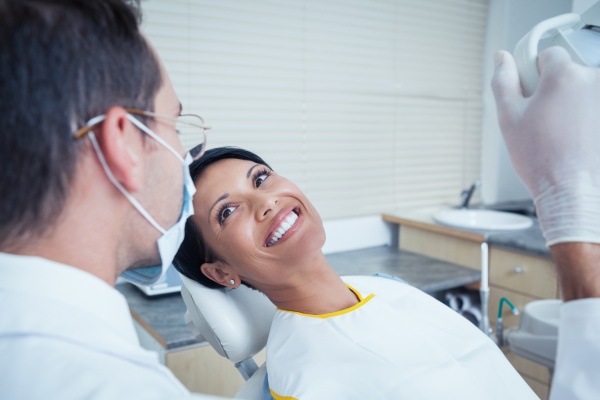 People place a lot of importance on appearance and that includes the smile of their teeth! The best means, of course, to sustaining healthy teeth is with a soft-bristled toothbrush and non-alcoholic fluoride mouth rinse twice a day along with flossing before bedtime. It is also helpful to control sweet tooth cravings and opt for high fiber foods such as apples, salads, and celery to keep saliva flowing which naturally washes away bacterial plaque. Following these steps can lead to a "perfect" score when seeing your dentist twice a year for professional cleaning and exams. All oral hygiene aside, it is the current popular interest in having teeth whitened that has brought the need to share reasons why a professional dental office, rather than the DIY whitening, is a better choice.
Keep in mind natural, healthy teeth are yellowish with grey tint due to the translucent property of teeth and that the layer beneath the crown, the dentin, is slightly yellow and showing through. That said, getting teeth whitened is a good way to lighten teeth a few shades when they are stained from age, food, drink or smoking. Here are a few benefits of visiting a dentist to have your teeth whitened.
1. A Comprehensive Dental Exam
An essential step before beginning any professional whitening is to check for and repair tooth decay and cavities; however please note that past dental restorations will not be affected by any amount of whitening solution and will produce a mismatch of color between natural teeth and those teeth with dental restorations. It is also important to professionally clean and polish teeth to ensure that there is no debris such as plaque and tartar present on the teeth before the whitening. With a comprehensive exam, the patient will also know which stains cannot be lightened. Surface stains (extrinsic) can be whitened but the internal staining (intrinsic), due to over fluoridation or tetracycline antibiotics, cannot be whitened.
2. Safety:
The knowledge a dentist has of teeth and gums and whitening solutions is invaluable as he or she will place a barrier over the gums to protect them from the bleaching solution, provide an anti-inflammatory medication if needed, and put a rubber or plastic guard on the mouth to ensure the mouth remains open during the procedure.
3. Faster, More Even Coverage:
The professional equipment at dental offices assures an even coverage on all teeth that DIY systems cannot guarantee. The dentist knows the proper proportion of the peroxide whitening gel to apply and they can use lasers to speed up the chemical reaction of the whitening solution. The dentist works in a step-by-step process, layering the compound on the tooth, wiping the compound off with a vacuum tool, and then setting down new layers up to three times. This professional method keeps teeth whiter for longer.
4. Follow-up:
The follow-up with a dentist after the initial whitening is important to ensure that there are no adverse reactions with the peroxide solution or any new tooth sensitivities.
5. Self-Confidence:
Being assured that teeth are whitened correctly and having fewer stains on them is a great morale and esteem booster!
Set up an appointment today
Professional whitening will have your teeth looking their best in no time. Keep these 5 benefits in mind and feel free to call us with any additional questions.
So…
Request a dental appointment here: https://www.newyorkdentaloffice.com or call New York Dental Office at (212) 548-3261 for an appointment in our New York dental office.